I am up to host the Inspiration Challenge at Splitcoaststampers today. I was looking for sites a few weeks back, and kept coming upon patterns that were hand drawn which I just loved. But I could not find a site dedicated to it, so I made a Pinterest Board.
I have a lot saved in Pinterest, so I will lead you to the boards related to the challenge, which is Paper Fashion Drawn and Wearable. The drawn are beautiful dresses, the wearable are paper dresses and I am fascinated by both.
For my card I picked this dress from Paper Fashion Drawn, and found on Pinterest
here
,
I followed the dress, reversing the colours, to colour my flowers, but instead of a blue and pink background I did my background using Squeezed Lemonade Distress Ink.
To colour I used Copic Markers, which I have listed below in the order used.
Previously I would start with the lightest Copic and work my way to the darkest. I have done a lot of reading and a lot of colouring as I was not always happy with the look and found I had to continually add darker colours. After all my playing around, I have changed my colouring from darkest to lightest, and find I am getting better colouration in doing so.
Once I was finished the colouring I die cut the flower with the coordinating die.
I added the Squeezed Lemonade to the card base along with splatters in Wilted Violet and Midas Touch Shimmering Pen. I then styled the flowers and affixed to the base using foam squares.
I then added Stickles in Moon Dust around bits of the card with a small palette knife. I die cut two of the sentiment words and coloured with Copics before gluing to the card.
I enjoyed making this card, probably because it is a bit of a departure for me with these different colours. But it was fun.
Following are
Affiliate
links for the products that I have used for this card today, at no extra cost to you. I thank you for your support.

Welcome to the Scrap'n Stamp
Bling and Blossom
Hop.
Those words are music to most card makers ears. I made sure I had both for the card I made for this hop. Lots of bling and blossoms too!
We have a $50.00 Gift Certificate to the Scrap'n Stamp store for our hop giveaway, so be sure to leave comments on everyone's blog for your chance to win. The more comments you make, the more chances you have to win!
We are also offering 20% off your purchases before taxes, with the promo code Pamper. Valid May 7th, 2021 to May 10, 2021 at Midnight PT. While supplies last. Not valid with any other coupons, sales or promotions. Not applicable on previous purchases.
Now on to the card I made.
First, using my Original Misti I stamped my image on Hammermill cardstock using Memento Ink. I then proceeded to colour using Copic markers. In my research while searching out Magnolia flowers, I found some lovely Yellow blossoms. I decided I would use the yellows, and add in a bit of a rose colour as well.
The flower petals have Y38, Y15, Y17, Y08, Y13 and Y02. I then added the YR02 and blended with Y13. The leaves are done using G07, YG05, YG07 and the stems E37, E97, E35 with bits of E57.
Once I was finished with the Copic colouring I ran the image through my Scan'n Cut for a detailed cut. I wanted this done so I could add shadowing inks.
But first I coloured the white border with YR02 so it would fall into the background. I then splattered the flowers with Midas Touch Shimmering Pen.
To do the background using my Life Changing Blending Brushes I applied a layer of Spiced Marmalade Oxide Ink. I then applied a layer of Worn Lipstick Oxide Ink over the Spiced Marmalade.
For my shadow, I placed the flowers in their position and took a picture with my phone to refer to. I then applied Ripe Persimmon Oxide ink, referring to the picture, and using the cut out.
Once the inking was done and I liked the look, I then did splatters again with water and Midas Touch Shimmering Pen. In real life it is beautiful.
I styled the flowers and attached them to my card base using foam squares.
To finish the card I added a bunch of gems around the flowers. I then die cut the sentiment 3 times, colouring the bottom two with E37 and the top one with YR02, R05 and R08 and glued then together as well as gluing to the flowers on the card. I added another gem to the heart of the sentiment.
A friend is going to give this card to her Mom for Mothers Day, so it already has a home which makes me happy.
Thank you for joining me today. Following is the hop list, with
Susan
up next, followed by my Affiliate links used for this card, at no extra cost to you.

It is time for Watercolour Wednesday at Splitcoaststampers. I am hosting this weeks challenge which is painting walls in watercolour. These are not normal walls, they are old stone walls found in earlier times. I remember when visiting family in England coming across some of these walls.
Our video this week comes from Artist Paul Clark. I was very taken with the way he does his videos, I think he makes it easy for the viewer to understand the process. Below is the YouTube video for this challenge.
I drew the wall in pencil, then proceeded to watercolour using the colours shown below. I left the sky relatively light and added loose plantings and grass. I then added the tree, but I am not sure if I like it.
Oh well, too late now!
I painted in the overhang of leaves, and in looking at it I think I will make the branches darker, which is easy enough to do.
The painting is 6 x 7 on Arches Cold Press watercolour paper and painted with Daniel Smith watercolours.
I am sort of happy with it, I think I might do it over again as I would like the plants to be a bit looser, and maybe change the way I have done the tree.
Thanks for your visit.
Following are Affiliate links for the products used for this painting, at no extra cost to you.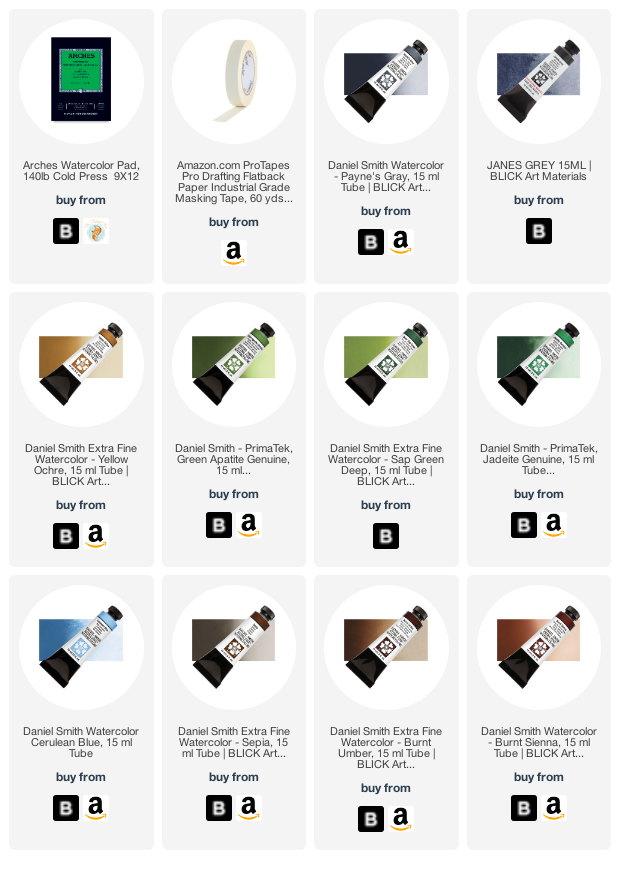 Welcome to Day 2 of Impression Obsession's May Release.
If you have arrived here from Jeanne Streiff, you are in the right place. If not, head on over to the Impression Obsession Blog for the start of the hop. On each day you can find a list of the participants on the Impression Obsession Blog.
We will be giving away THREE Impression Obsession $25. Gift Certificates for the event. So, the more you comment through our release celebration, the more chances to win! All comments for each day of the event will be open until Monday, May 10th at Midnight CT. The winners will be announced on the
Impression Obsession blog
on Tuesday, May 11th.
For this card I have used Just Retired (F21376) and an older die (DIE242-YY) for framing.
I stamped using Memento ink and coloured using Copic markers. I also coloured the frame die to match my shadowing around the image.
When I colour with Copic markers I use Hammermill cardstock, which is what I used for this card. I die cut the frame using Neenah cardstock 110lb. and glued it to the Hammermill card, then attached both to red cardstock.
For my second card I used the adorable Coffee Cups (E21383) stamp, colouring with Copics. I again used one of the frames from the Rectangle set, but left it white. The sentiment is from a previous release, but I was thinking how well it went with the coffee cups. We have all been drinking a lot of tea or coffee of late.
This was a fun image to colour. I am already thinking of colours for the next time.
Following are Affiliate links for the products that I have used for this card, at no extra cost to you.

Archive