I am happy to share this card with you today. This stamp is from Penny Black and is called Flowering Lanterns, and has quickly become one of my favourite stamps to colour.
I have taken pictures of my process to show you how easily this card can be done by you.
I use Fabriano Hot Press Watercolour paper when I paint. I like the smooth texture of the paper, along with how it takes heat embossing.
When doing this type of card it is a must to have a stamping assistant, as this process has continued stamping. I use a Misti, but you can use your choice of platform. You can also use your choice of water based dye inks. In my case I have used Distress Markers along with Distress Inks.
I start by colouring the stamp in sections. First are the leaves and stems. I colour the stamp then spritz lightly with water before stamping. I lay colour down on my work surface and add colour to the leaves.
I then colour the flowers on the stamp, using a post it note to block areas I don't want ink on, colouring all the flowers.
This time I stamp dry, as I will be adding a lot of colour to the flowers.
I am adding colour the same way I did for the leaves. Laying the colour down on my work surface and picking up with a paint brush.
This has the first layers of colour.
I continue my process with several layers of colour letting everything dry in between applications.
I am using only two colours for the lantern flowers, being Spiced Marmalade and Rusty Hinge. For the leaves I used Peeled Paint and Forest Moss.
Once I have completed my painting I move to my background. In order to do a complete background, I heat emboss my flower image using clear embossing powder. This protects the colours, and also adds a bit of shine to my finished card.
For this background, I started by doing a wash using Peeled Paint. I let dry, then added in Blueprint Sketch. Towards the end of adding the Blueprint Sketch I mixed the two colours together to finish the wash, and added in a tad of the Spiced Marmalade to the wet wash in a few areas.
To finish my card I added flicks of acrylic paint in navy and white, matted my panel with the orange card stock, then finished with a few sequins. It is when I have everything in place that I decide where my sentiment will go, and here I stamped Congrats from the Concord & 9th Many Mandala's stamp set using Ranger Archival Ink in Cobalt.
I hope you have enjoyed this process and that you will give it a try.
Thank you for visiting my blog today. Following, first are Canadian Affiliate links to the products I have used today, at no cost to you. Following those links are U.S.A. Affiliate links.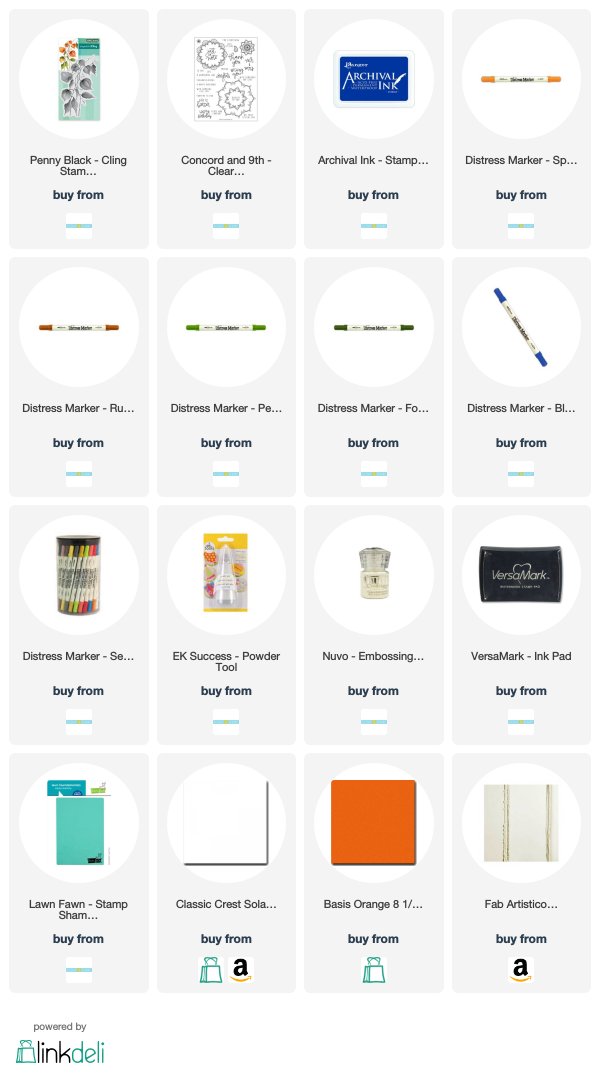 U.S.A. Links